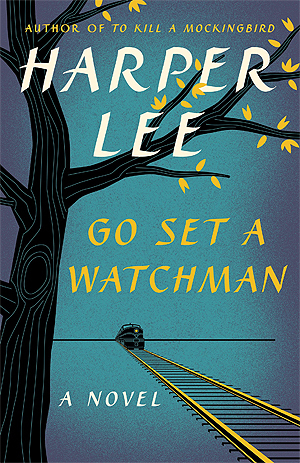 Go Set a Watchman

by Harper Lee
Published by HarperCollins on July 14th 2015
Genres: Fiction, Literary, Classics, General
Pages: 288
Format: Kindle
Buy on Amazon, Buy on B&N
Goodreads

From Harper Lee comes a landmark new novel set two decades after her beloved Pulitzer Prize–winning masterpiece, To Kill a Mockingbird.
Maycomb, Alabama. Twenty-six- year-old Jean Louise Finch—"Scout"—returns home from New York City to visit her aging father, Atticus. Set against the backdrop of the civil rights tensions and political turmoil that were transforming the South, Jean Louise's homecoming turns bittersweet when she learns disturbing truths about her close-knit family, the town, and the people dearest to her. Memories from her childhood flood back, and her values and assumptions are thrown into doubt. Featuring many of the iconic characters from To Kill a Mockingbird, Go Set a Watchman perfectly captures a young woman, and a world, in painful yet necessary transition out of the illusions of the past—a journey that can only be guided by one's own conscience.
Written in the mid-1950s, Go Set a Watchman imparts a fuller, richer under- standing and appreciation of Harper Lee. Here is an unforgettable novel of wisdom, humanity, passion, humor, and effortless precision—a profoundly affecting work of art that is both wonderfully evocative of another era and relevant to our own times. It not only confirms the enduring brilliance of To Kill a Mockingbird, but also serves as its essential companion, adding depth, context, and new meaning to an American classic.
"Every man's island, Jean Louise, every man's watchman, is his conscience."
I'm probably committing blasphemy in the eyes of some by finding this book remarkably so-so. In all honesty, I seriously question whether Harper Lee ever intended for this book to see the light of day.
There were parts of the book that I enjoyed quite a bit. These were the sections where "Scout" reminisced about childhood events. These bright slivers of life where she recalled simple things like swimming in a pond with her friends and how she learned about the mysteries of reproduction were humorous and touching at the same time. They were wholly believable. They're also the main reason I rated the book as high as three stars.
Then there were the slice of life sections detailing what it's like to come home to a family of strangers after spending years in a new environment. These were a dry read for me as it was unclear what the purpose of the story line was. In one sense it seemed like an exploration of feminism as our heroine tries to decide if she'll ever marry her childhood friend Hank. In one scene she endures a little get together with the town's women and she finds herself wholly unable to relate. She fears losing herself to the classic male dominated marriage. But in the end she's indecisive about the whole thing, and despite growing up a tomboy, raised by a father and uncle, she claims she doesn't understand men at all. If it's intended as a feminist message it's flawed because the main character's answer seems to be fleeing the situation. If it's just about growing up and finding your own way, then it's lacking because the heroine has to be spoon fed those ideas.
Then after reading 40% of the book, the concept of racism comes back into the story. At this point I thought to myself that perhaps the first part of the book should have been edited out as it seemed merely anecdotal when compared to the emotional upheaval of the second half of the book. Indeed, there seemed to be three distinct premises for "Go Set a Watchman". Yes, three books forced to coexist as one. Some college professor will probably claim this was a clever way of portraying the turmoil of integration, but I tend to think the book simply needed better editing.
Overall, I was frustrated with Jean Louise (Scout). She's either so bottled up, refusing to show any emotion that she comes across as a zombie, or she's so emotional she's vomiting and screaming hysterically at people, refusing to let them get a word in edgewise. She doesn't come to any brilliant revelations herself, instead her uncle has to beat the lessons into her at the end of the story. Any character growth is forced upon her by other individuals.
Let me close with one last positive about the book. The writing itself is sophisticated and full of bright imagery. The first page of the book had me nodding and thinking I had a real treat in store for myself. I enjoy words and sentences for their own sake and in this sense Ms. Lee's book shines.